What Is LinkedIn? a Beginner's Guide to the Networking Site
Maybe you are a member of the LinkedIn network . You may have just joined it. You may not have heard of it before. LinkedIn is one of the most important tools for branding , job search , resume submission and business growth and prosperity in the world: a professional network for interaction between professionals, entrepreneurs, professors, students and employees. In this article, with the subject of LinkedIn training, we will first introduce this network and talk about its advantages and functions; Then we teach you how to join and complete the user page; Finally, we will explain some tricks for using this network more professionally. Stay with us until the end.
must read:
What is LinkedIn?
LinkedIn is a professional network for entrepreneurs, employees, higher education students and more. The network was launched in 2002 by Reid Hoffman . Today, the network has hundreds of millions of active users in more than 200 countries and is the largest network for interaction and communication between people in the professional and professional fields.
LinkedIn functions; In what cases should we use LinkedIn?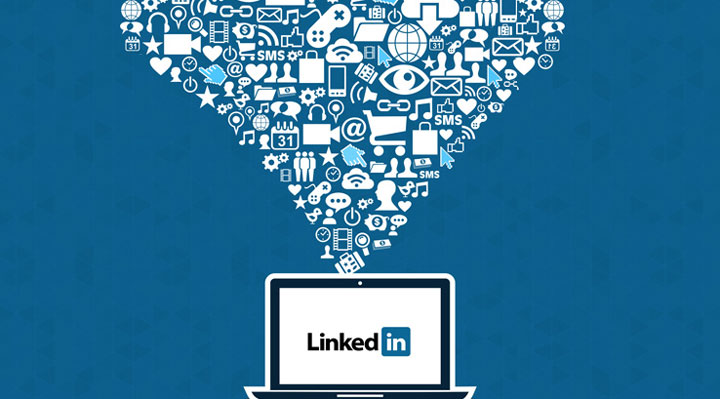 LinkedIn's social network aims to create a platform for networking : networking between business owners, employees, job seekers, and… to promote and facilitate business conditions and the development of people's careers. This goal can be explained as follows:
Documenting experiences, education, career and scientific achievements in the form of an online resume;
Finding like-minded people and interacting with them;
Facilitate finding a job using network facilities and the presence of industry and business owners;
Facilitate the employment of people using network facilities and the presence of students and job seekers;
Awareness of the latest developments in the business world by following the groups and pages of large and small companies;
Meet and interact with prominent people in various fields: On LinkedIn, a wide range of prominent people, world university professors, world-renowned entrepreneurs, world political and economic leaders are present and share their views on various issues;
Development of individual skills and job competencies in interaction with other peers;
And…
What are the benefits of using LinkedIn?
LinkedIn network for all those who want a career in development work. This network tries to create a platform for professional communication between these people by providing various facilities.
Economists call today the age of networking : the age in which former boundaries were broken and science and technology interconnected in different fields. Undoubtedly, the impact of this networked world on businesses will make them more specialized. In such circumstances, the existence of virtual networks as a platform for the exchange of knowledge and information about jobs and professions, and knowledge of the latest developments in the business world, is a necessity.
Membership in the LinkedIn network is a hospital for all people who:
They want to develop their professional skills and competencies;
Align their future career path with developments;
New job opportunities come;
Expand their business.
How to become a member of LinkedIn network?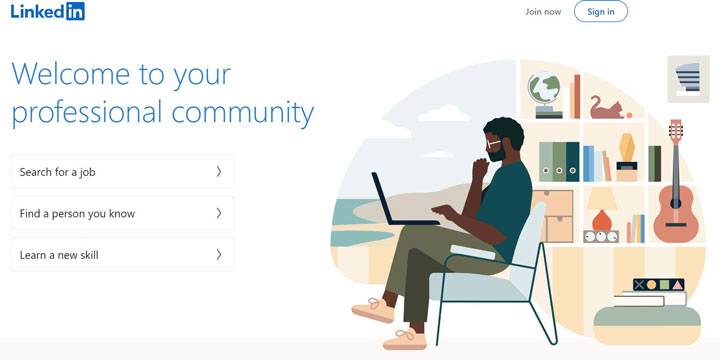 Now that you are familiar with this network and its functions, it is time to introduce you to the different parts of this network; But before that, we need to show how to join this network for those who have not yet joined.
To join the LinkedIn network, you must visit the LinkedIn website . After entering the site, you will see two phrases on the first page and in the upper right corner. Click on "Join now". Clicking on this phrase will take you to a new page.
Now you need to do the following steps:
first stage
First, enter your desired email and password and then click on "Agree and Join". Be careful when choosing a password and follow the safety tips for choosing a password. The password must consist of at least 6 characters including letters, numbers, punctuation and..
Note: If you have a Gmail account, you can do this process faster by using your Gmail account information. This will actually connect your LinkedIn account to your Gmail account.
second stage
Now you need to enter your first and last name. Note that LinkedIn does not recognize pseudonyms and states that it is against its rules. So it is better to use your real name and surname.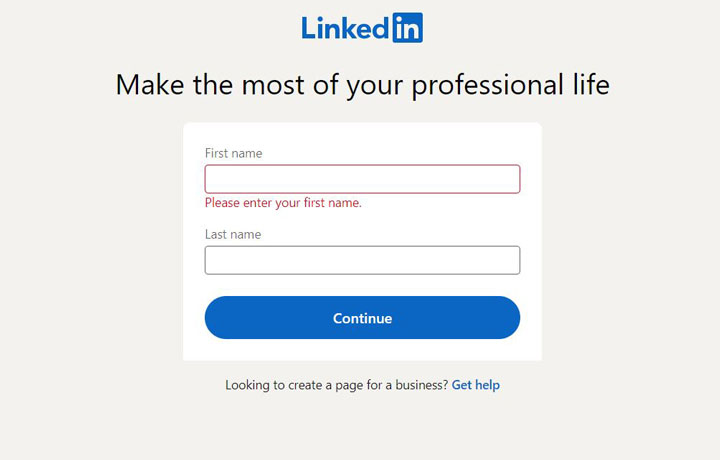 third level
In this step, enter your active mobile number by selecting the country of residence.
A text message has now been sent to your mobile phone containing a 6-digit code. Enter it in the appropriate field. If you did not receive the text message, click resend.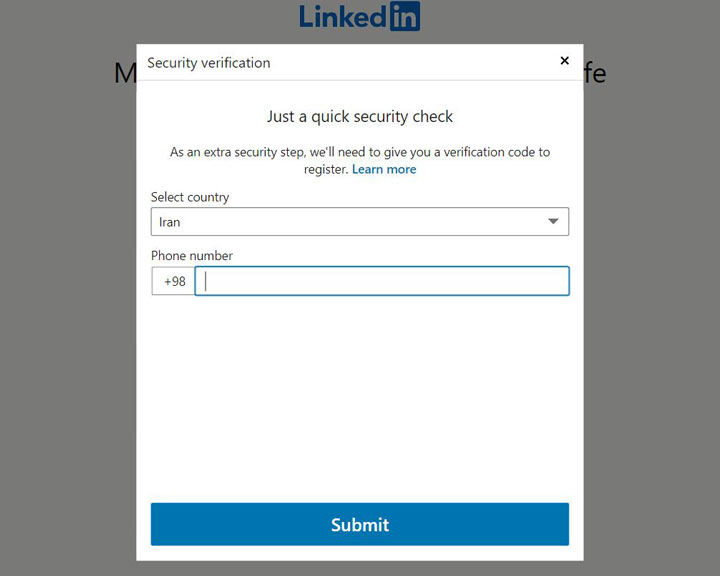 The fourth step
Now you have to choose your place of residence, postal code and city or town. This section is displayed by default according to the information registered in your operating system. It is better to edit it.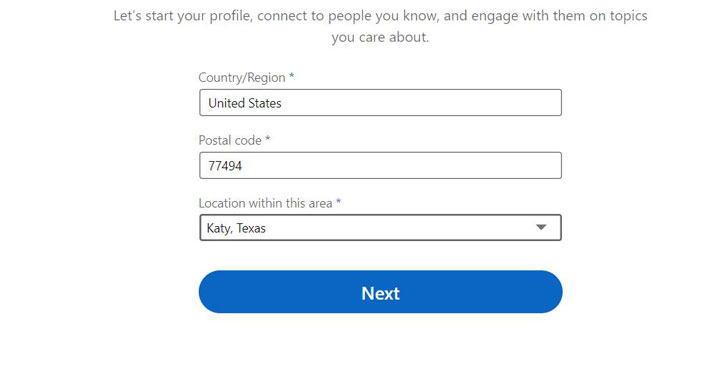 After going through the above steps, you will enter the process of registering your job or educational information. This section needs further explanation:
Step Five
If you are employed, the job title, job status in terms of part-time or part-time, the company you work for and your field of work.
In this section, the LinkedIn engine comes to your aid and by writing letters, offers you many suggestions for more accurate completion. For example, when you enter a company name, it will be displayed to you if that company has an official page on LinkedIn.
Step Six
If you are a student, click on the phrase "I'm a student". Then enter your details including school or university, undergraduate or graduate (bachelor, master, doctorate, etc.). Finally, enter your field of study, the year of entry and the year of graduation or the year you are about to graduate.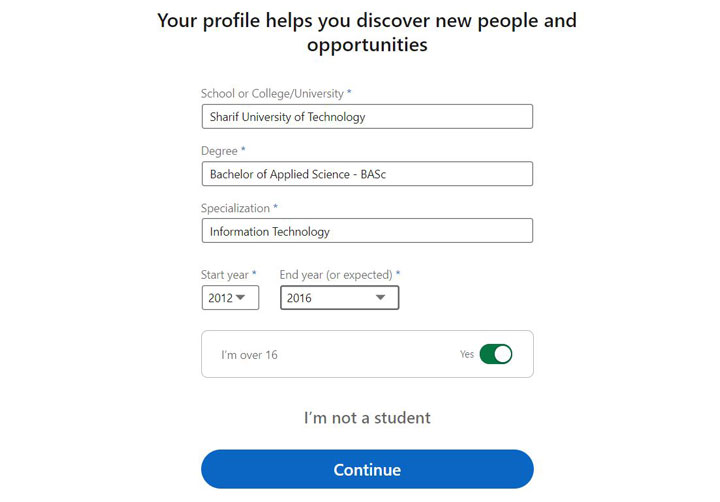 Seventh step
Your account is now ready and you just need to enter the verification code sent to your email in the desired location.
Step eight
Your page is now ready to launch; But LinkedIn also shows you the optional steps. You can skip these steps and go to them at any time.
Step 9 (optional)
One of these steps is to add a photo to your page. Select your photo if you wish. We'll talk more about account photo features in the Tips section about LinkedIn tricks .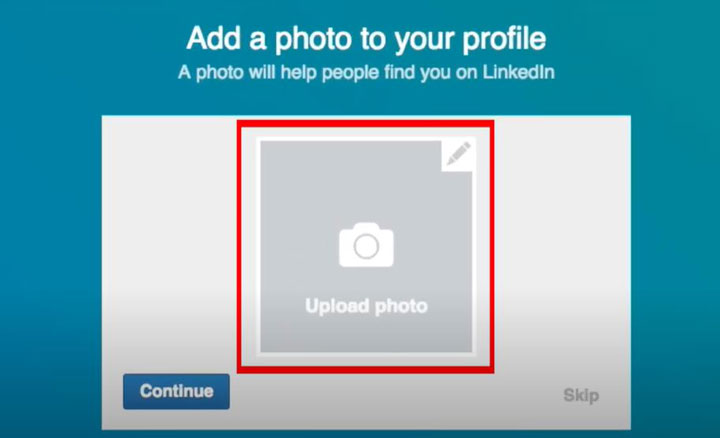 Step 10 (optional)
Another optional step is to invite LinkedIn to install the network mobile application, which allows you to quickly and easily access the network. It's best to skip this step right now. Completing your user page is now more important. After that, we will definitely go to LinkedIn on mobile phones.
How to edit and complete your LinkedIn user page?
Once you've joined LinkedIn, now that you've launched your user page, it 's time to complete and edit it. Your user page or profile on LinkedIn is your online resume. LinkedIn settings provide you with a variety of features and sections to create a complete, comprehensive and powerful resume. In the following, we will show you the different sections of the user page and how to complete and edit it:
1. Login to the user page

To enter this page, just click on your name on the right side of the page or on the phrase in the upper right corner marked with a yellow mark and enter your page.
۲. Heading / Title section
Your user page is made up of different sections, the most important of which is the Heading / Title section. In this section, you will see the photo, name, job title or education that you entered at the beginning of the registration and the place of residence.Note that this is the part that every contact will see at first glance after entering your page. Therefore, its exact completion is essential.
To edit this information, just click on the pencil icon in the right corner and in the new page, edit and save. Click on the photo above your name to add or edit the photo.
You can also choose a background image to make your page more beautiful. This photo should be appropriate for your profession.
3. Add new sections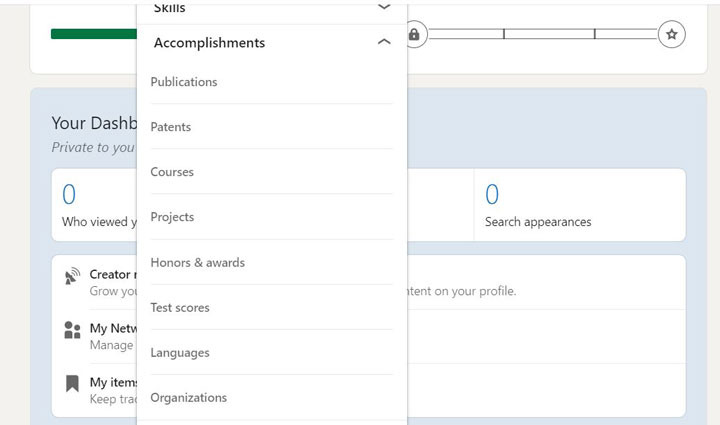 In this section, you can add new sections to your page by clicking on the phrase (Add Section).
These sections, from top to bottom, include a brief introduction, backgrounds, skills, achievements, additional information, and more. Each section also has a subset that is displayed by clicking on the icon in the right corner. For example, the Accomplishments section includes published articles and books, inventions and innovations, courses taken, projects, awards and certificates, important test scores, languages ​​learned, and membership in various institutions and organizations.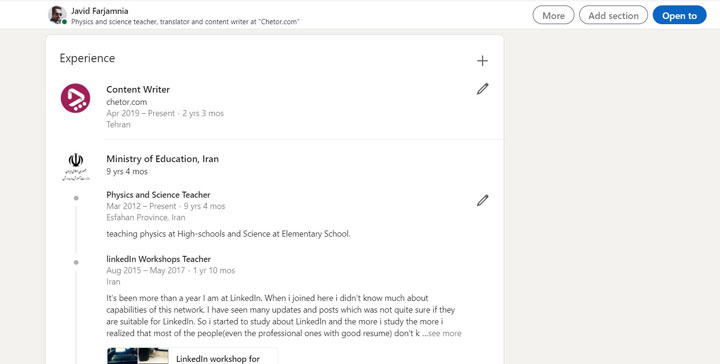 Clicking on any of these sections and subcategories will open a new page for which you need to complete the information. Each time you create a new section, that section is added to your user page and displayed to you and others.
4. Dashboard section
This section, which is displayed only to you, shows your account rank and resume along with the posts and saved content, the network of people related to you, the last views of the post you published, the number of recent visits to your page, the number of times your name is on the engine A LinkedIn search appears and shows.. In fact, this section tells you how active and powerful your page is. Clicking on any option will display the details.
Other sections of the LinkedIn network
In addition to the user page, LinkedIn settings have other sections that we will briefly introduce:
1. Home section
This section provides information on the latest posts and content published by network users. In the right corner of the page, popular training courses are introduced. At the top of the page, you can also write and publish your own content, including photos or videos. You also have the option of writing an event and writing a long note to keep you informed of your work events or to write and publish an analytical article in detail.
۲. My Network section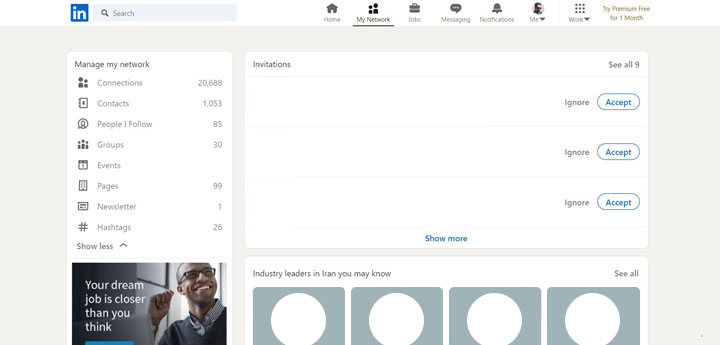 In this section, you can view and manage the latest requests to connect to your page, the latest user invitations, the number of people you link to on LinkedIn, the number of influencers, groups, company pages, and hashtags you follow.
Also in this section, the LinkedIn network, based on your information and activity in the network space, introduces you to a number of users that you may know or are active in your common areas.
3. Jobs section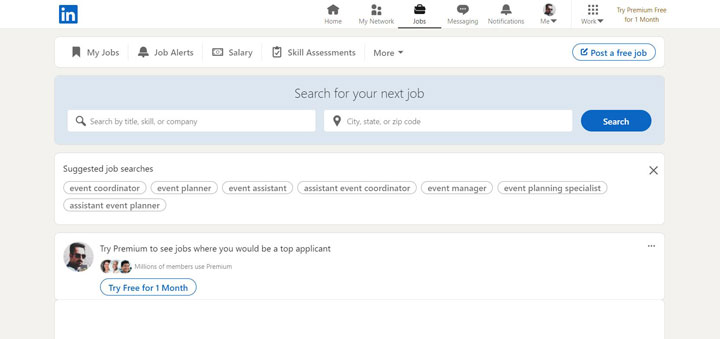 This section contains a search bar with which you can search for jobs posted by employers and various industries. It is also possible that by clicking on the phrase "Post a Free job", you will also register a vacancy in your business for potential applicants in this section.
4. Messaging section
This section is for personal messages that you have exchanged with people related to you. You can send messages to people in this section or view or delete previous messages. As can be seen in the photo, in addition to sending a text message, it is also possible to send emoji , photo, video, link and.. LinkedIn itself offers a number of default messages to speed up message exchange. We will talk more about the messages section in the LinkedIn tricks section.
5. Notifications section
In this section, you will be informed about the latest changes and reactions of users to your posts and content, as well as other important events and developments. You can disable that type by clicking on the three dots to the right of each reminder.
6. Settings and privacy section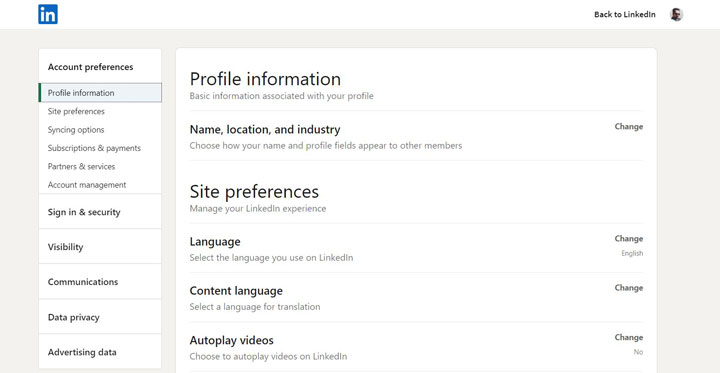 To go to this section, you must click on the phrase "Me". Then in the opened section, click on the phrase "Settings and Privacy". A page like the one above opens, which contains different sections and allows you to manage different sections of the account as well as other related sections. Be sure to check this section before starting to work on LinkedIn and check the different sections and options to get the most suitable settings you want.
7. Work section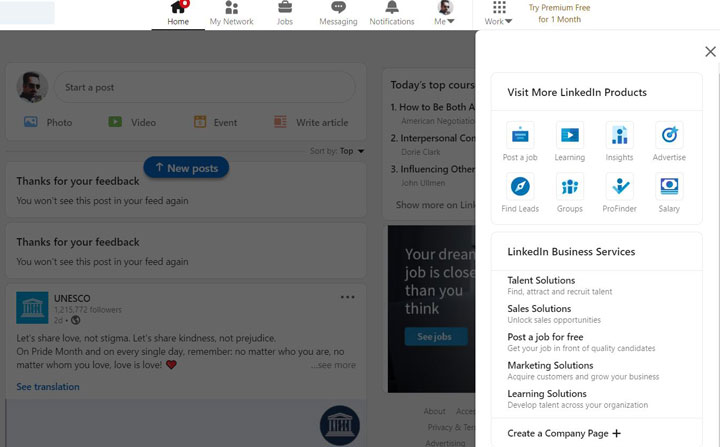 This section, which consists of 8 sub-categories, provides users with a range of educational, employment, marketing and search facilities. Each user can benefit from these subsets depending on their status, conditions and needs. For example, if someone is looking to acquire new skills, click on the "Learning" option to enter the LinkedIn training page and benefit from training videos on various topics.
Explaining all these sections is beyond the scope of this article; Hence, we lend it to future writings.
Tricks for more professional use of LinkedIn
At the end of this article, we recommend tips and tricks so that you can use them to experience a more professional user page and activity in this network:
1. Choose the right photo for your profile
LinkedIn recommends that you choose a photo in which your face is clear and functional. It is also better for your photo to be professional and professional than an informal one. For example, the selection of party photos, group photos, art images such as profile face, flower photo and workplace photo, and… are among the inappropriate photos for the profile.
۲. Complete resume details
As mentioned in the introduction to the sections of the user page, you need to enter a lot of details to complete each section of your resume. Some of these details are optional, but the more accurate and complete you are in filling out your resume, the stronger your profile and, in fact, your resume will be.
3. Prepare a printed version of the profile
By entering the user page and clicking on the "More" option, you can share your page link with others. You can also print a copy of your resume in PDF format.
4. Use the Recommendation feature

One of the useful features of LinkedIn is the ability to send and receive referrals from colleagues. If you have been or have been working with someone for some time, you can ask them to write a letter of recommendation for you. This recommendation will be displayed on your page and will help strengthen your resume. Of course, the recommenders must be members of the LinkedIn network to submit a recommendation.
5. Pay attention to the unwritten rules of publishing posts and articles
It is better to choose content to publish on LinkedIn that has a professional color and smell and is related to your knowledge and work. Publishing content that is not in line with the goals of this network is not in accordance with the standards of this network; For example, republishing daily news of events, political disputes, personal travels, entertainment, cafes, photos of parties or friendly or family get-togethers, pictures of personal animals, repetitive motivational content, and many more are examples of non-professional content.
Of course, someone who is active in, for example, tourism, restaurant management, cafeteria, animal husbandry, etc., is expected to publish content that is relevant to their job. However, it is important to understand and respect the boundary between this network and other networks as much as possible.
6. Manage the messages section
When sending a private message to users, it is better to use the official tone and speech and send our text in the form of a message. Let's not forget that the LinkedIn environment is designed for professional interaction, and this space is not suitable for dating or personal communication.
7. Public Page Management
Because your profile is considered as your resume. LinkedIn allows search engines to find and visit people by searching for your name on those search engines. This is done with the help of a copy of your user page called the "public page".
To manage your public page, on the user page, click on "Edit Public Profile and URL" to enter your public page and specify which part of your page you want to be displayed in search engines. You can also edit your public page link to make it easier to find.It should be noted that the changes made in this section take between one to several days to be applied to search engine results.
8. Build a page for your business
If you own a company, you can create a page for it. To do this, go to the "Work" section and click on "Build a Company page" at the bottom of the page. During the desired steps, your company page will be created and managed by you.
Through this page, you can bring the latest news and developments of your business to the followers of the company and also publish job advertisements .Note that your user page may not be recognized as your company page; This means that you should not set up your personal page with the company name and photo. The user page is for real people, and to set up a company page, you have to follow the instructions.
You say
If you have experience using this network, write to us in the comments section what positive or negative points you have seen in this network and what other tricks and recommendations you have. You can also share your questions with us in the comments section so that we can answer them here or in future posts.
---
Read more: Popular Teaching Methods About LinkedIn And Tools 2022